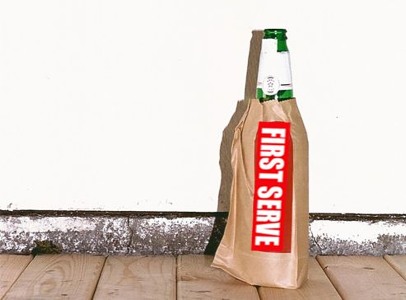 Badass Hip Hip infused with electronic music, may not be everyone's cuppa but i sure enjoyed it and i hope you do too..
In the unusually warm 3am air of a Parisian suburb, a house party is getting out of control. Police Nationale have been called - but no-one can get near. The air is thick with Hip-Hop filling the adjacent streets, acting like a force field. You can hear the faint licks of Aerosmith and the rising vocals of Bowie as far as the Champs Elysees. Is that DJ Kool Herc on the decks? Situated in the Capital of French Electro, the influence is audible, while Meth, Red, Jay-Z and even Mystikal get 16 bars in on the mic. Who knew The Beatles were this funky?
The cause for celebration? It's the wrap up party for First Serve, an undercoverproject that has been two years in the making. First Serve is the brainchild of 2 & 4 (aka Chokolate & Khalid, producers/ DJ's). After an instant meeting of minds they decided to embark on a musical adventure – a Hip Hop album played by musicians. All they needed was a couple of MC's to help complete their vision. Enter NY based Jacob 'Pop' Life and Deen 'D' Whitter.Listen to the mixtape recorded at the party. It's funky, it's hip hop, it's disco... and it's a classic!