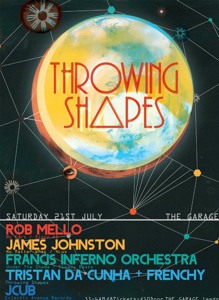 We did an interview with J.Cub a while back and he kindly supplied us with a mix, well here's another one. Which i personally love. I don't need to say much else as J.Cub already has.
"When I was asked to play for the Throwing Shapes launch party I jumped at the chance, especially because I was asked to play The Waxwerks (Record Store by day, back room of the club by night).
The brief was simple, play what I want how I want but keep it interesting, so head 1st into my record collection I went.
If you like your sets a bit different taking you in, over, around, under and through the houses with a 4x4 beat then you should like this, if you like your sets to sound the same throughout then this probably isnt for you (try it you may like it)
Oh and all is played off vinyl, now you cant play anything else in a Vinyl only Record Store can you!!??"